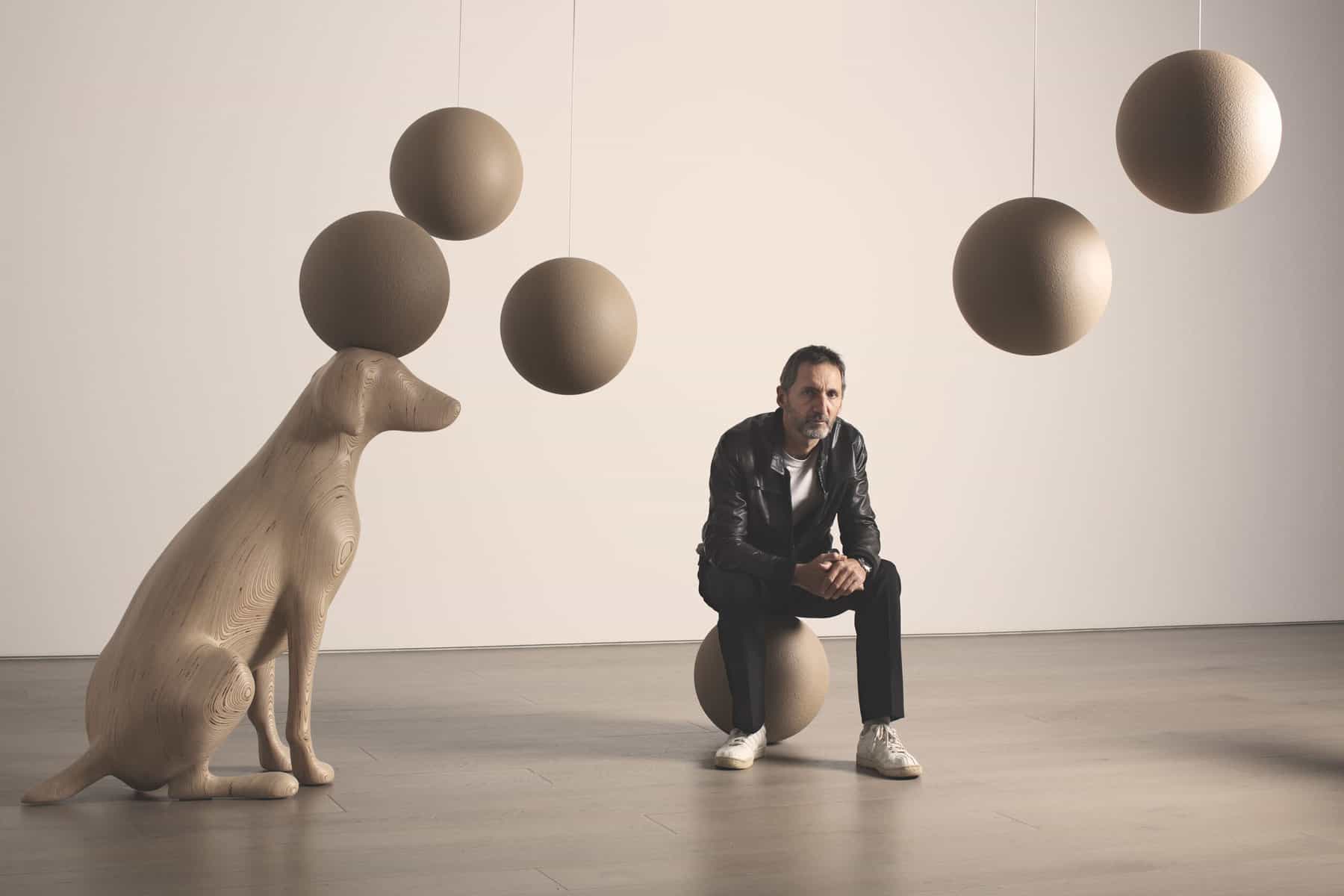 XAVIER VEILHAN: AUTOFOCUS – FAD Magazine
Autofocus, a solo exhibition by the French artist Xavier Veilhan, can be seen until December 23, 2021. For Autofocus, Veilhan is continuing his experiments on movement and memory by conceiving a new scenario on the third floor of Perrotin that consists of a field of new figurative and architectural sculptures.
When entering the exhibition, we encounter a scene frozen in time. Large-format mobiles hang from the gallery's skylight, consuming the surrounding sculptures. Below that, geometric shapes have attached themselves to blurry human shapes and lifelike animals. We are greeted by the gaze of two oversized canines carved from soft birch wood. Interested in the ability
of animals, to define man, Veilhan's dogs are voyeurs of the scene that unfolds before them. Nearby, human silhouettes appear softer and hover around the edges of our field of vision. The artist reduces body and form to the essentials and makes them barely legible.
Below that, Veilhan has placed his sculptures on the outline of a cube and leaves our view unhindered and unchanged. Inspired by Sol Lewitt's "Open Cube" or Robert Morris's mirror cubes, they are reminiscent of rigid minimalist sculptures from the 1970s and act as anchors for the eye. Above, Veilhan designed a series of fragmented mobiles that are part of the
Ceiling. The mobile, an emblem of modernism in the mid-20th century, is robbed of its symbolic meaning of balance, rhythm and time. Instead, Veilhans Mobile is frozen and his balls fall on the characters in the scene. By freezing time, Veilhan invites us to uncover the relationship between seemingly different topics and leaves clues on
bigger story.
Inspired by the high ceilings of the room, Veilhan's figures are shaped in different scales from life-size to monumental, which frame the audience as a crucial point of reference. The exhibition does not exist without visitors, or as Veilhan says, "the appearance of the work is determined by the viewer's gaze". As we continue to uncover the layers of Veilhan's installation, we perceive the tiniest hints of unreality and let us feel insecure as we walk around it.
For three decades, Veilhan has developed a multifaceted approach to his artistic practice that mixes different media and scales and plays with the viewer's spatial and temporal perspective. At the beginning of his career he mainly worked in figurative sculpture and slowly developed his own formal language. Since then he has staged numerous significant interventions around the world, often reinterpreting classic sculptural and architectural elements. In his installation in Versailles in 2009, the artist staged large-format sculptures by visionary architects in the palace and its gardens; followed by a two-year project called Architectones, in which he thoughtfully intervened and reactivated historical architectural sites on two continents and five cities; or his 2017 proposal for the French pavilion at the Biennale di Venezia, entitled Studio Venezia, where he created a working recording studio. In Autofocus the artist continues this tradition of site-specific interventions by inviting the viewer to activate the space by moving through his sculpture field. Often referred to as an artist-engineer, Veilhan carefully choreographs the exhibition, forcing our gaze to alternate between harsh architectural lines and subtle curves. Veilhan offers only fragments of a moment and turns our vision into a purposeful actor.
XAVIER VEILHAN AUTOFOCUS – December 23, 2021 PERROTIN New York perrotin.com
About the artist
Xavier Veilhan (born 1963, lives and works in Paris) has created an acclaimed work since the late 1980s, inspired by both formal classicism and high technology, and spanning a range of media (sculpture, painting, installation, performance, Video and photography). His exhibitions question our perception and often create a developing space in which the audience becomes an actor. For example in Veilhan Versailles (2009), his Architectones series (2012-2014) or his proposal for the French pavilion at the Biennale di Venezia entitled Studio Venezia (2017). Xavier Veilhan's work is often exhibited in public spaces, with sculptures occupying numerous cities in France and abroad, including Paris, Stockholm, New York, Shanghai, and Seoul, among others. His work has been shown in various prestigious institutions around the world, such as the Center Georges Pompidou (Paris), Mamco (Geneva), the Phillips Collection (Washington), Mori Art Museum (Tokyo) and MAAT (Lisbon).
Categories
Art article New York
EXHIBITIONS
Keywords
Perrotin New York
Xavier Schleierhan
author
Mark Westall
Mark Westall is founder and editor of FAD magazine, founder and co-editor of Art of Conversation and founder of the platform @worldoffad
Perrotin New York is proud to present an exhibition of metal sculptures created by Belgian artist Wim Delvoye over the past five years.
Xavier Veilhan: Light Machine (2016), 13 meters high, was permanently installed in the atrium of the menswear store of Galeries Lafayette.
He transformed the roof of the Cité Radieuse into MAMO, short for MArseille MODulor, a place for exhibitions and creative studios.
Galerie Perotin Group exhibition: Sophie Calle, Johan Creten, Wim Delvoye, Elmgreen & Dragset, Lionel Estève, Daniel Firman, Bernard Frize, Bharti Kher, Kolkoz, Guy Limone, Takashi Murakami, Jean-Michel Othoniel, Paola Pvi, Claude Rutault, Michael Sailstorfer and Xavier Veilhan.