mario cucinella completes monolithic white concrete church in italy
church santa maria goretti: distinctive and yet timeless
inspired by natural shapes and the curves of baroque architecture Mario Cucinella Architects'Design this organically shaped church in Italy. Located in the Calabrian hill town of Mormanno with a view of the pollino national park, the new parish church of santa maria goretti also has a cross cut on the front facade and a four-leaf clover plan.
the project was awarded to mario cucinella architects following a competition organized by the italian episcopal conference (cei), the national assembly of bishops. Construction began in 2015 and was completed that year. the sacred building is dedicated to the youngest saint of the catholic church, saint maria goretti (1890-1902).
Images © duccio malagamba
Inspired by the strict Byzantine churches of Calabria, such as the cattolica monastery in stilo, which has been declared a UNESCO World Heritage Site, the church consists of four white concrete apses that create a distinctive flowing shape. The rest of the exterior of the church is distinguished by a few essential elements, including a subtle entrance opening, an illuminated cross and engraved words relating to the life of Saint Maria Goretti.
the minimalist exterior gives way to a surprising interior filled with translucent fabrics that hang in the form of curved curtains from the 16-meter-high ceiling. This ethereal design element continues the flowing form of the architecture and filters soft light into the prayer room.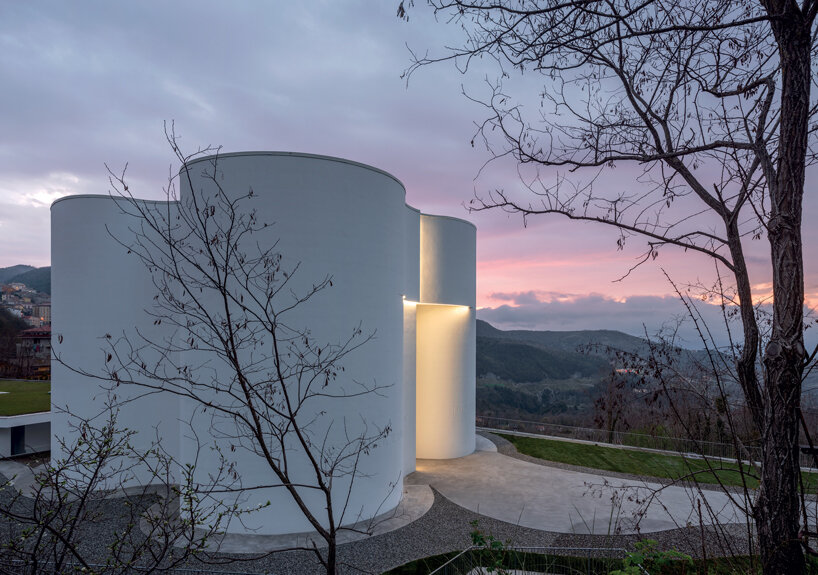 for the furniture, mario cucinella design created simple floors and seats made of wood and steel, which emphasize the architectural and sculptural elements of the church interior. One day a year – the feast of St. Maria Goretti on July 6th – a ray of sun shines directly on the crucifix on the wall behind the altar.
mario cucinella not only created an unmistakable yet timeless building, but also sought a relationship between art and architecture in dialogue with the sacred. the artist giuseppe maraniello reflects the flowing shapes of the walls and created a lectern, tabernacle, baptismal font and figure of the Virgin Mary out of stone, bronze and mosaic.
"The design of a church is a message of continuity with the spirit of art, which has gone undeterred through the centuries of mankind", says architect Mario Cucinella.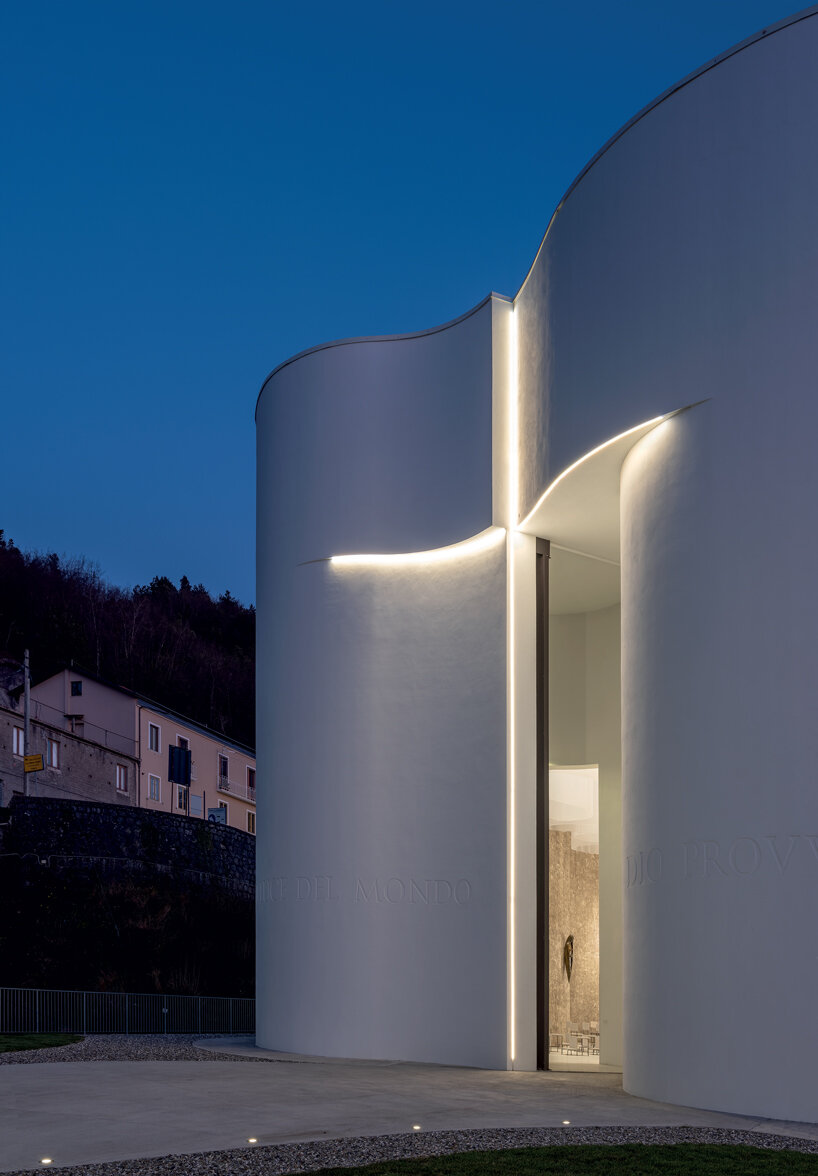 the church is part of a small new urban complex with a new community center, also designed by mario cucinella architects. This essentially orthogonal one-story, large concrete skeleton building, which offers a wide view over the Pollino landscape, contains a community meeting room, church classrooms and the priest's house, which is grouped around a central planted inner courtyard and under a lively "green" roof.
the church of santa maria goretti was designed with minimal maintenance and energy consumption in mind. the green roofs and inner courtyards as well as the organic garden in front of the rectory for the 0 km cultivation contribute to the sustainability of the project and serve the local community.