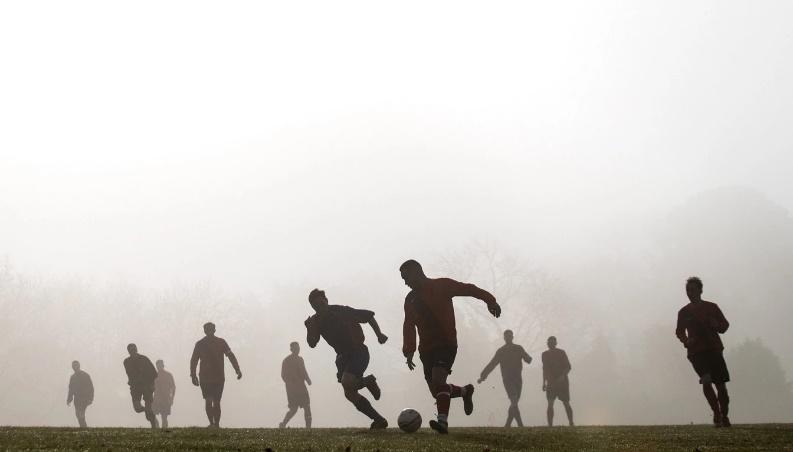 How Africa's sports photography scene evolved and what it looks like today
A brilliant recording says more than a thousand words. They're incredible moments in a game that demonstrate the sheer determination, perseverance and dedication of athletes after years of arduous training, all culminating in crossing that magical finish line or achieving that elusive victory on the field. Sports photography, an excruciating but powerful form of the medium, has always been difficult to master because viewers expect an immersive experience, as if they were watching a game live. A difficult but crucial aspect is the constant anticipation of the photographer. While capturing the action live, they also need to anticipate what will happen next.
A good sports photographer understands the game and observes where the player is while instinctively knowing where they will be in the next moment. It's those split-second moments in the game that become iconic. There is no margin for error. Capturing athletes' defining moments is a mission, and the world of sports photography is made up of snapshots of iconic moments frozen in time.
Engineering and technology make the best shots
A sports photographer understands their camera gear and settings to instantly adjust and capture the best shots as the game moves fast. Evoking strong emotions just from a photograph takes a lot of hard work behind the scenes, which is why sports photographers – like the athletes and players they photograph – need to put in a lot of practice time to hone their technical skills.
Sila Kiplagat, a renowned photojournalist from Nairobi, covers prestigious sporting events like the Kenya Safari Rally. He believes that sports photography would be impossible without the cutting-edge technology available today from companies like Canon, allowing photographers to do justice to their craft. Sila has captured many timeless shots with the Canon EOS-1D X Mark III, transporting the viewer right to the scene of the action. "That's the power of sports photography," says Sila, "and it's remarkable that we have breakthrough technology that allows us to bring this to people."
hurdles along the way
Being a photographer in Africa is tough and you have to keep at it until you can break out. Typically, sports photojournalists learn on the job as there are no sports photography modules in media training institutions. This is something that needs to be addressed in order to elevate the genre. Aspiring sports photojournalists should also be encouraged to cover grassroots sports to improve their skills and raise the profile of future sports talent. It can also be helpful to find a good mentor who can help nurture your talent.
Another hurdle African photographers face is the lack of earning opportunities, especially for freelancers. In general, photography and photographers are undervalued and underpaid on the continent and opportunities are limited as international media agencies have their own photographers in Africa.
Live sports coverage on both mainstream and social media has increased the pressure on sports photographers. It is becoming increasingly important that African sports photojournalists have access to the latest technology to help them transmit real-time images via WI-FI or data to their newsrooms to keep fans engaged throughout the match.
According to top sports photographer Jorge Ferrari "When you are just starting out the challenges will be related to having the right equipment. There's always new technology, new cameras, new lenses, so these challenges are still valid. At this stage of my career, my biggest challenges are access-related situations. You can be the best photographer in the world, but if you don't have access to where you need to be, you can't do your job."
Canon has long supported and encouraged sports photographers to capture the moment and create images that inspire, excite and delight. Whether it's through the Canon Master Class, a community of thousands of photographers and filmmakers dedicated to helping enthusiasts hone their skills, or through Canon Professional Services, where professional photographers with membership enjoy exclusive benefits like priority repair service , get free replacement equipment, discounts, etc.
Sports-loving Africa has a lot to offer photographers
In June 2022, the 69th edition of the World Rally Championship (WRC) took place in Nairobi, Kenya. One of the most legendary sporting events in the country with more than 19 special stages and a total distance of 363.4 km, Unfolds over dusty roads, unpredictable weather and alongside abundant native wildlife, making it the most challenging and scenic stage of the WRC circuit. Kenya's rich motorsport heritage has led to the emergence of automotive photography, with local enthusiasts using digital platforms and social media to follow sports photography and showcase their work.
There are many fascinating ongoing sporting events across the continent that you can attend as both a sports fan and a photography enthusiast. Long-distance running is dominated by Kenya, Uganda and Ethiopia, and handball by Algeria, Morocco, Tunisia and Egypt. South Africa excels at rugby and hosts many football and golf tournaments.

Take your gear and shoot
As Africa's leading publication, Pan African Visions, and a pioneer of innovative imaging products, Canon invites sports and photography enthusiasts to participate in the "Capture the Action" competition. It's a platform for people to showcase their talent and harness the power of visual storytelling.
Interested participants can submit one or more original images https://bit.ly/3ohnORn and get a chance to win Canon EOS R5, EOS R7 or PRO 200 printers. Images of the shortlisted winners can also be viewed in a virtual gallery hosted on Pan African Visions' website and social channels.
Follow us on Telegram, Twitter, and Facebook, or subscribe to our weekly newsletter to make sure you don't miss any future updates. Send tips to [email protected]